Friends of Flying Santa, Inc., was formed in 1997 to help ensure the future of the annual Christmastime flights to New England's U.S. Coast Guard units and lighthouses. The aerial visits of Flying Santa to lighthouses and lifesaving stations have been a New England tradition since 1929. The annual helicopter flights are a gesture of gratitude to the men, women, and families of the Coast Guard who keep watch over our coastal waters.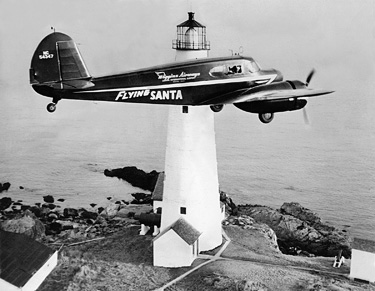 On Sunday, September 23, a seven-hour lighthouse cruise from Gloucester, Massachusetts, benefiting Friends of Flying Santa will pass close by 13 lighthouses: Annisquam, Straitsmouth, the Thacher Island Twin Lights, Eastern Point, Bakers Island, Hospital Point, Fort Pickering, Derby Wharf, Marblehead, Graves, Boston, and Ten Pound Island. The narrator will be lighthouse author/historian Jeremy D'Entremont.
All proceeds go to support Friends of Flying Santa. The Flying Santa flights have expanded to include all Coast Guard families from Maine to Long Island, New York, and are expected to deliver gifts to 1300+ children this year. Your financial support of the flights is needed and appreciated. Seating is limited, so make your reservations today.
10:00 a.m. to 5:00 p.m.   $79 per person.
Click here for more information and to make your reservation.