North Point Lighthouse, a 74-foot-tall lighthouse built in 1855 with an adjacent Queen Anne Victorian keeper's house, is a shining jewel of Milwaukee, Wisconsin, in scenic Lake Park. The park itself is a major attraction; it was conceived and rendered by Frederick Law Olmsted, one of America's most celebrated landscape architects. The lighthouse, which was decommissioned in 1994, has been beautifully preserved by the North Point Lighthouse Friends, Inc., formed in 2002. The lighthouse has been open for tours since 2007.
On August 22, 2018, Lands' End, Inc., officially kicked off its Heritage Collection product launch and Heritage Tour with a celebratory event at North Point Lighthouse. The event, in partnership with North Point Lighthouse and the U.S. Lighthouse Society, celebrated Lands' End's ongoing commitment to lighthouse preservation by supporting the restoration of the North Point Lighthouse South Ravine Trail in Lake Park. This project will restore and connect the upper South Ravine Trail to the Stormwater Regenerative Conveyance System in the lower ravine, which is designed to capture storm water pollution runoff in the ravine before it reaches Bradford Beach and Lake Michigan.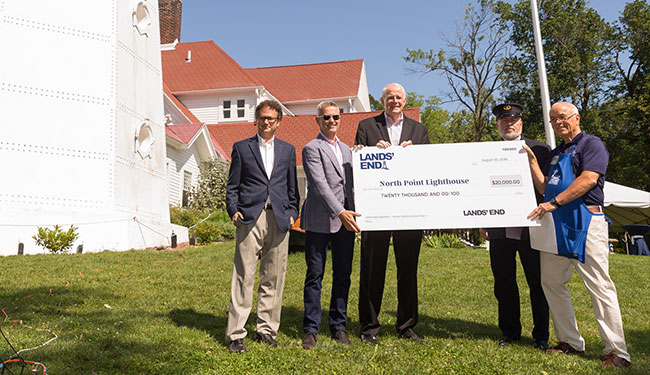 Lands' End donated $20,000 to help fund the South Ravine Trail restoration and other lighthouse initiatives. Dignitaries from Lands' End, the U.S. Lighthouse Society, and Milwaukee Mayor Tom Barrett spoke during the event.
*   *   *   *   *   *
U.S. Lighthouse Society News is produced by the U.S. Lighthouse Society to support lighthouse preservation, history, education and research. You can receive these posts via email if you click on the "SUBSCRIBE" button in the right-hand column. Please support this electronic newsletter by joining the U.S. Lighthouse Society if you are not already a member.
If you have items of interest to the lighthouse community and its supporters, please email them to Jeremy at nelights@gmail.com.