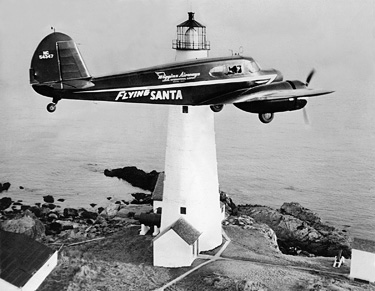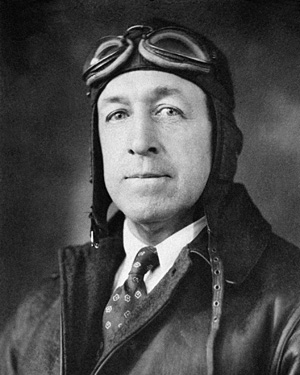 The Flying Santa tradition goes back to December 25, 1929, when a floatplane pilot, William Wincapaw of Friendship, Maine, loaded his plane with a dozen packages. He flew to lighthouses around the Midcoast Maine area and dropped the modest gifts for lighthouse families as a way of showing his appreciation for the work they were doing. In the mid-1930s, Edward Rowe Snow, a schoolteacher, maritime historian, and author in Winthrop, Massachusetts, became involved in the flights. Snow would eventually become the sole Flying Santa, and he kept the flights going through 1980, flying to as many as 176 lighthouses.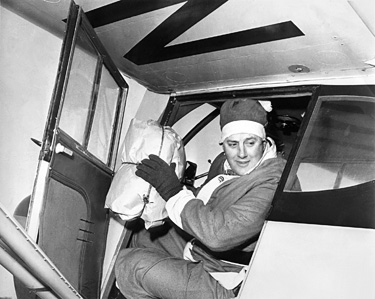 The Hull Lifesaving Museum on Boston's South Shore kept the tradition alive for a while, and then the Friends of Flying Santa was formed as a separate nonprofit organization in 1997. The Friends' mission remains dedicated to Captain William Wincapaw and Edward Rowe Snow's philosophy that lighthouse keepers and Coast Guard crews were true lifesavers and deserved to be recognized for their efforts.
Friends of Flying Santa strives to continue this tradition of appreciation by carrying on the annual Christmas helicopter flights to lighthouses and Coast Guard stations. Today's helicopter visits and gifts for the children are small tokens of appreciation for the outstanding work of the United States Coast Guard and their supportive families.
Brian Tague has been involved with the Flying Santa program since the late 1980s, and he serves as the president of Friends of Flying Santa. Brian is also an accomplished photographer who specializes in wildlife, aerials, and scenic work.
Podcast: Play in new window | Download (Duration: 34:58 — 28.3MB) | Embed
Jeremy D'Entremont is the author of more than 20 books and hundreds of articles on lighthouses and maritime history. He is the president and historian for the American Lighthouse Foundation and founder of Friends of Portsmouth Harbor Lighthouses, and he has lectured and narrated cruises throughout the Northeast and in other regions. He is also the producer and host of the U.S. Lighthouse Society podcast, "Light Hearted." He can be emailed at Jeremy@uslhs.org