North Manitou Island is in northeastern Lake Michigan, about 12 miles west-northwest of Leland, Michigan. A lighthouse was first established on the island in 1896. A few years after the lighthouse on the island was established, it was decided that an offshore light was needed to mark a shoal in the busy six-mile-wide passage between the southern point of North Manitou Island and the mainland. The Public Works Administration funded construction and work on North Manitou Shoal Lighthouse began in 1933. The light went into service in 1935.
When the light was automated in 1980, it was the last offshore light in the Great Lakes to be destaffed. It was virtually abandoned after automation. The lighthouse was auctioned by the GSA in 2016. The high bidders were a group of four Michigan families and they founded a nonprofit organization, the North Manitou Light Keepers. They intend to restore the station and to eventually open it for public tours and overnight stays. Dan Oginsky is president of the North Manitou Light Keepers.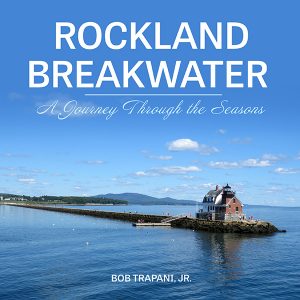 Bob Trapani, Jr. is the executive director of the American Lighthouse Foundation. He's also a writer and photographer. What started as family adventures exploring the coast of Maine evolved into something more, and in recent years Bob has launched a new effort called "Moments in Maine." He's published a new book called Rockland Breakwater: A Journey Through the Seasons. In this collection of stunning photography, Bob captures a very special place in Midcoast Maine through four seasons of the year. Rockland Breakwater is a place where you can go to sea without leaving land.
Podcast: Play in new window | Download (Duration: 1:01:47 — 46.3MB) | Embed
Jeremy D'Entremont is the author of more than 20 books and hundreds of articles on lighthouses and maritime history. He is the president and historian for the American Lighthouse Foundation and founder of Friends of Portsmouth Harbor Lighthouses, and he has lectured and narrated cruises throughout the Northeast and in other regions. He is also the producer and host of the U.S. Lighthouse Society podcast, "Light Hearted." He can be emailed at Jeremy@uslhs.org