Cape Lookout National Seashore (NC) to host 'dark sky' astronomy event
Cape Lookout National Seashore and the Crystal Coast Stargazers invite travelers and astronomy aficionados to celebrate International Dark Sky Week in North Carolina's newest International Dark Sky Park with two evenings of public stargazing on Friday and Saturday, April 22-23, beginning at 8 p.m. Throughout the evenings, guests will experience the exceptional quality of the night sky in the park and the nighttime treasure of Cape Lookout Lighthouse.
* * *
Owner to sell historic 'Terrible Tilly' lighthouse (OR)
Terrible Tilly, the 141-year-old Tillamook Rock Lighthouse near Cannon Beach, Oregon, is for sale.
Owner Mimi Morissette has listed the property for $6.5 million. She once hoped to turn the lighthouse into a large columbarium, a place to store people's cremated remains. There was room, she said, for up to 300,000 urns.
* * *
Kanhoji Angre Lighthouse (India) to open for tourists in a year
In a step closer to opening the Kanhoji Angre Lighthouse located on Khanderi Island in India's Raigad district for tourists, a work order has been issued and the project is expected to be completed in a year's time. Mumbai Port Authority chairperson Rajiv Jalota said that the project is expected to be completed by March 2023.
* * *
New campground at Split Rock Lighthouse State Park (MN) set to open June 1
The opening date has now been set for a long-awaited new state park campground on Minnesota's North Shore. The 46-site Shipwreck Creek campground at Split Rock Lighthouse State Park will open on June 1. Campsite reservations will start being accepted on April 5, at 8 a.m. The campground's name is inspired by the many shipwrecks along the stretch of Lake Superior shore near the park.
* * *
Canada's West Coast lighthouse photo contest entices photographers to capture B.C. beauty
The Sheringham Point Lighthouse Preservation Society's second annual photo contest invites anyone to snap shots under the theme of Coastal Life in Canada.
The society, established in 2003, is responsible for the 110-year-old heritage site and hopes the photo contest helps spread its beauty worldwide. Members also recognize the iconic lighthouse is a favorite subject for photographers from around Canada.
* * *
East Chop Light (MA) dig finished
Excavation work to rid federal land around East Chop Lighthouse on Martha's Vineyard of lead-contaminated soil has finished. The work was completed on schedule by March 18, according to Petty Officer Amanda Wyrick, a spokesperson for the U.S. Coast Guard's First District.
* * *
What's on Mukilteo's (WA) old negatives? Historical society to find out

Peter Anderson knows Mukilteo like the back of his hand. As a director of the Mukilteo Historical Society, he can tell you about the lighthouse's short-lived automatic foghorn. Short-lived because a rogue beam of moonlight could accidentally trigger the noisy horn.
Even for Anderson, there's more to be understood about the town's past. The society's archive team (or "A-team") catalogues old photos every year. But binders of old negatives have lingered untouched on a wooden shelf for years. The team doesn't have the technology to process them or uncover the stories they hold.
* * *
Bressay Lighthouse (Scotland) up for grabs
Community groups or private owners are being offered the chance to take on the Bressay Lighthouse on the island of Bressay in the Shetlands, Scotland. The lighthouse and the derelict Park Hall properties are owned by Shetland Amenity Trust, but following discussions with the local community councils the organization is seeking expressions of interest in both. The trust said this could be as a community project or a private sale, and both a lease or buying are options.
* * *
Lighthouse in Japan's Toyama Prefecture is now a tsunami evacuation shelter
A lighthouse in Kurobe, Toyama Prefecture, on the Sea of Japan coast is now also a fully functional tsunami evacuation shelter, and has a new system allowing anyone to unlock it when needed.
The 9th Regional Coast Guard Headquarters, based in the city of Niigata, has installed a device that automatically opens the box storing the key for the Ikujihana Lighthouse door when it receives a signal from the emergency warning broadcast system, which automatically turns on compatible radios and TVs in time of emergency. This is the first installation of such a device in a lighthouse in Japan.
* * *
Public input sought for Fisgard Lighthouse, Fort Rodd Hill sites (BC, Canada)
With a draft management plan completed for Fort Rodd Hill and Fisgard Lighthouse National Historic Sites in Colwood, Parks Canada is asking the public for feedback on its proposals for the popular park. The draft plan presents a 10-year vision for the site and outlines how Parks Canada aims to achieve its goals to maintain the coastline landmark. For more information and to register to contribute feedback on the plan, visit letstalkparkscanadawestcoast.ca.
Click here for more information
* * *
Historic Thames lighthouse restored in Gravesend (England)
With a distinctive Jules Verne rocket ship design, Shornemead Lighthouse was established in 1913 by Trinity House, on a strategically important bend in the river at Gravesend Reach, opposite East Tilbury Fort, 30 miles from London Bridge. Depending on their position and direction of travel, mariners see a red or white light. Over the last year, a team of engineers has worked to preserve and restore the lighthouse to its former glory, out of view behind scaffolding and protective sheeting.
* * *
Disco ball to be installed at Cape Hatteras Lighthouse (NC) as part of restoration project
Project officials recently announced that a giant disco ball will be installed at the top of the Cape Hatteras Lighthouse as part of a years-long renovation project to restore the historic structure to its former glory.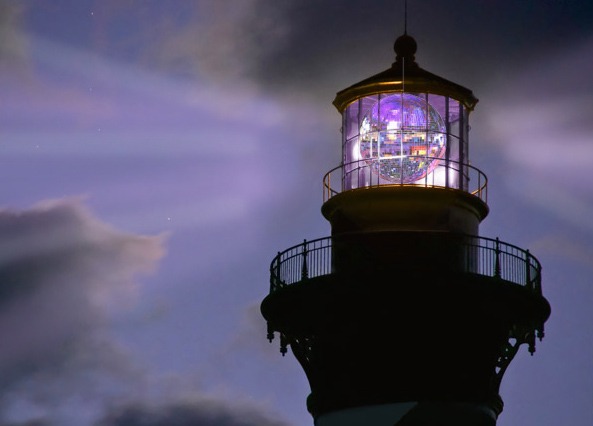 Replacing the light at the top of the tower was always part of the multi-faceted restoration project, but initially, the project team planned to either re-install the original first-order Fresnel lens, or create an identical and historically accurate replacement. "When we revisited the plans, we realized that a disco ball would be much groovier, and would be way easier to build than that complicated historic light thing," said one of the architects associated with the project.
Happy April Fool's Day!
* * *
U.S. Lighthouse Society News is produced by the U.S. Lighthouse Society to support lighthouse preservation, history, education and research.
If you have items of interest to the lighthouse community and its supporters, please email them to Jeremy D'Entremont at Jeremy@uslhs.org
Jeremy D'Entremont is the author of more than 20 books and hundreds of articles on lighthouses and maritime history. He is the president and historian for the American Lighthouse Foundation and founder of Friends of Portsmouth Harbor Lighthouses, and he has lectured and narrated cruises throughout the Northeast and in other regions. He is also the producer and host of the U.S. Lighthouse Society podcast, "Light Hearted." He can be emailed at Jeremy@uslhs.org