Nantucket Lightship (WLV-612) is for sale in Boston
The revamped, privately owned Nantucket Lightship (WLV-612) is being offered for sale by the owner, Bill Golden, for $4,950,000. That's a slightly reduced price from last year. Golden spent two years transforming the ship into a luxury home with a large kitchen, den, dining room, five bedrooms, and a spacious entertainment area. One bedroom features the bunk beds first used by the Nantucket Lightship crew.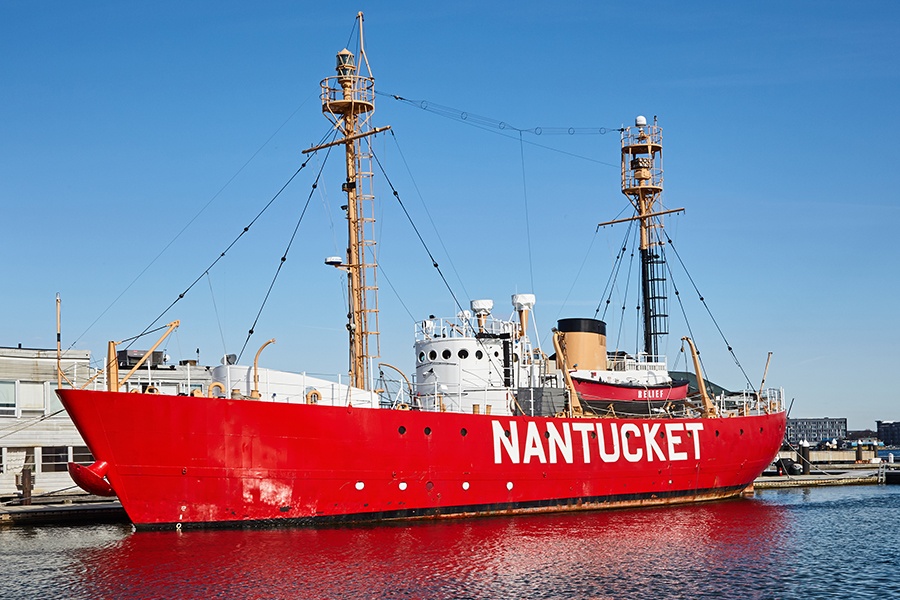 *  *  *
Breakwater at Sheboygan, Wisconsin, gets needed renovation
The rebuilding of the south breakwater at Sheboygan started about a month ago and will be broken up into two phases. Phase one of the project was awarded $4,387,000 and includes adding new sheet pile to both sides of the breakwater and adding a new concrete surface on top. This portion of the project will cover just more than 1,250 feet of the wall, starting from the lighthouse and working inland.
Below: Strong waves and wind created a lakefront spectacle Tuesday afternoon in Sheboygan. From the Sheboygan Press.
*  *  *
Morris Island Lighthouse (SC) to be lit Sunday night
Save the Light, Inc., the nonprofit organization working to restore Morris Island Lighthouse, will light the inactive lighthouse this Sunday night from 8:30 to 10:00 p.m. for a special occasion. Pam and Johnny Ohlandt are celebrating their wedding anniversary, and the nonprofit said they want to light it to thank them for their time and contributions to keeping the lighthouse preserved.
By the way, this lighthouse is prominently featured in the popular Netflix series Outer Banks, set in North Carolina but actually filmed in South Carolina. The lighthouse is called "Redfield Light" in the series.
Click here for more information on Save the Light
*  *  *
Lighthouse organizations face decisions about opening for 2020 season
Many lighthouses around that country that open for the public normally open for the season in the spring; many open around Memorial Day weekend later this month. Some have already canceled for the season or announced delays to the start of the season. Others are in a holding pattern at this point.
An example of a lighthouse that's temporarily closed is Split Rock in Minnesota. Like other parks and historic sites, the lighthouse is closed until July 1. Whether or not that date is extended remains to be seen.
An example of a lighthouse organization that has canceled for the season is the Friends of Seguin Island Light Station in Maine. Trails on the island will be open to the public, but the lighthouse, gift shop, and museum will be closed to visitors. Overnight stays and camping will also be closed.
Overnight stays at Race Point Lighthouse on Cape Cod, Massachusetts, are canceled for the season. Some other lighthouses with overnight stays have their openings delayed but still plan to open, or are in "wait and see" mode.
An example of a popular lighthouse that's in a holding pattern is Presque Isle in Erie, Pennsylvania. Last year, more than 17,000 visitors paid a $6 fee and climbed the 78 steps to the top of the 68-foot-high lighthouse. The lighthouse is located in a state park; an estimated 70,000 parkgoers last summer either toured the lighthouse grounds for free or paid $3 to tour the living quarters and/or the $6 fee to climb the tower.
This year, Michael Sullivan, lighthouse executive director, and his board of directors are still waiting to see if the COVID-19 pandemic will allow them to open the lighthouse grounds to the public this season. "All of our decisions here will revolve around the safety of our staff, volunteers and guests," Sullivan said. "We're on a holding pattern …. We might have to reconfigure how we do tours and how we have guests visit the lighthouse."
COVID-19 concerns also have delayed the start of some planned lighthouse improvements. About $45,000 was earmarked this spring for a project involving installation of a new roof on the building's living quarters, new copper gutters and new copper flashing.
An example of a lighthouse organization that has canceled a planned renovation project is the Rock of Ages Lighthouse Preservation Society, Michigan.
In a statement, their board of directors said, "This decision was made due to 1) the risk that the spread of COVID-19 poses for volunteers who would be working in an extremely remote area far from medical care and 2) COVID-19 related disruptions that have made it logistically impossible to provide adequate supplies, equipment, and transportation for a successful restoration season."
* * *
U.S. Lighthouse Society News is produced by the U.S. Lighthouse Society to support lighthouse preservation, history, education and research.
If you have items of interest to the lighthouse community and its supporters, please email them to Jeremy at Jeremy@uslhs.org
* * *
Jeremy D'Entremont is the author of more than 20 books and hundreds of articles on lighthouses and maritime history. He is the president and historian for the American Lighthouse Foundation and founder of Friends of Portsmouth Harbor Lighthouses, and he has lectured and narrated cruises throughout the Northeast and in other regions. He is also the producer and host of the U.S. Lighthouse Society podcast, "Light Hearted." He can be emailed at Jeremy@uslhs.org