In episode 2 of the USLHS podcast Light Hearted, originally released on June 6, 2019, host Jeremy D'Entremont interviewed Chad Kaiser, general manager of the New Dungeness Light Station in Sequim, Washington. Chad is also a lampist (Fresnel lens expert) and preservationist, and part two of this interview was heard in episode 20. Chad and Jeremy (why does that sound familiar?) talked about the remoteness of New Dungeness, which is at the end of a five mile sand spit, and about the "keeper" program that offers individuals, families, and groups an opportunity to spend a week at the station while performing maintenance duties and providing tours.
Also in this episode: Jeremy and co-host Cindy Johnson tell the story of the Pharos of Alexandria, the world's first great lighthouse, and a model for many lighthouses that followed.
Jeremy and Cindy also discuss a 1971 movie, The Light at the Edge of the World, starring Kirk Douglas and Yul Brynner. The film was based on a novel by Jules Verne. It's one of the rare adventure movies ever made where a lighthouse keeper is the hero.
Following is a complete transcript of the episode.
You can listen to it using this player:
Light Hearted Episode 2 transcript
JEREMY D'ENTREMONT
You are listening to lighthearted, the official podcast of the United States Lighthouse Society. My name is Jeremy D'Entremont. My cohost is Cindy Johnson, operations manager of Friends of Portsmouth Harbor Lighthouses here on the New Hampshire Seacoast. Thanks for being with me today. Cindy. We are recording today at the Exeter Inn in Exeter, New Hampshire. So what's new in the lighthouse world, Cindy?
CINDY JOHNSON
Well, Jeremy, here on the seacoast of New Hampshire, we're gearing up for open house season at Portsmouth Harbor Light in New Castle, New Hampshire. Portsmouth Harbor Lighthouse is open to the public for tours every Sunday from 1:00 to 5:00 p.m. Memorial Day in late May to Columbus Day in October. It's a great tour; our volunteers are stationed all along the way to talk about the history and you get to climb all the way to the top. We call it the best view on the New Hampshire coastline. We hold other events throughout the season as well. So you can visit our website at portsmouthharborlighthouse.org for more information. So it's portsmouthharborlighthouse.org and all of our information about open houses and other events throughout our season is right there.
JEREMY
Well, it's certainly one of my favorite places in the world. It's been a lot of my life there in the last, uh, almost 20 years now. Yeah. So thanks for filling us in on that. And I hope people, if they come to the New Hampshire Seacoast, please come and visit us at our open houses. Meet Cindy and I'm usually there on Sunday afternoons. I can't promise I'll be there every Sunday afternoon, but I try to be there whenever I can. So please come and see us.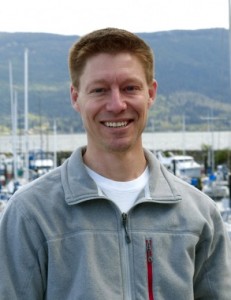 We're going to kick things off with Chad Kaiser, the general manager of the New Dungeness Lighthouse in Washington. I had the chance to sit down and talk with Chad when I was at the U.S. Lighthouse Society headquarters at the Point No Point Lighthouse in Hansville, Washington, in January. I had a great time visiting out there for a few days this past January. Cindy, can you tell us a little bit about Chad Kaiser please?
CINDY
Sure. Chad Kaiser is originally from Michigan where he worked for the Maritime Exchange Museum for about five years. Starting in 2007, Chad worked for the U.S. Lighthouse Society where he was Collections Manager and also helped to plan and lead many of their domestic and international tours of lighthouses. Chad became general manager of the New Dungeness Light Station in Sequim, Washington, in 2011. New Dungeness Lighthouse is at the end of Dungeness Spit and is reached by a hike of more than five miles along a sandy beach. The keeper program at New Dungeness helps to preserve the light station by offering individuals, families, and groups an opportunity to spend a week as keepers while performing maintenance duties and providing tours. Chad is also one of a handful of qualified lampists in the country who are approved by the U.S. Coast Guard to work on historic Fresnel lighthouse lenses. In 2017 he worked on the first order lens from Point Sur Lighthouse at a museum in Monterey, California. He also maintains a listing of all the classical Fresnel lenses in the United States on the U.S. Lighthouse Society website.
JEREMY
Thank you, Cindy. I talked with Chad about his experience at the New Dungeness lighthouse and also his experience as a lampist and his more general lighthouse preservationist experience. I decided to break the interview into two parts. So today we're going to hear the part about the New Dungeness Lighthouse. We'll hear the rest of the interview in a future episode. So let's go to that interview with Chad Kaiser now.
MUSICAL INTERLUDE
JEREMY
Thanks so much for being with me today, Chad.
CHAD KAISER
Thanks for having me.
JEREMY
I'd like to talk about your role with the New Dungeness Light Station. And this is probably not easy to answer in a few words, but can you tell me a little bit about what your job as general manager there entails?
CHAD KAISER
There's a pretty extreme emphasis on general with the general manager. My job out there entails many, many different things, whether it's managing volunteers or the ongoing maintenance of the light station or working with our fleet of trucks and trailers and boats, or taking reservations for the actual keepers program where we have volunteer keepers that pay to stay out at the lighthouse for a week at a time.
JEREMY
The thing that really amazes me about New Dungeness Light Station—and I've actually only seen it from afar; I've looked at it from a kind of across the spit there, I've never walked out to it. Sometime I'd like to give that a shot. But the thing that amazes me is it's so remote yet it's so popular at the same time. I read somewhere that more than a hundred thousand people visit the Dungeness National Wildlife Refuge each year. How many of those people actually make it to the lighthouse who walk out there?
CHAD KAISER
The rough numbers are about ten percent of the people that visit the refuge make it out to the lighthouse. That still leaves us with over 10,000 visits a year. And those are just the people that sign the logbook. We always think that there's more people that actually visit the lighthouse than actually sign the law. So it's pretty popular. So 10,000 people a year that have to do a 10-plus-mile round trip, walking on soft sand, is pretty impressive. We feel it is.
JEREMY
Yeah, it's absolutely amazing. What draws people to the light station?
CHAD KAISER
Well, there's two different people that visit. Some are the daily visits that hike out and the others are the keepers that stay out there. And I believe they're out there for two separate reasons. The people that hike out there on a daily basis, they are there because they've done an internet search and they're searching for things to do out on the Olympic Peninsula and visiting the wildlife refuge is number two or number three for things to do on the Olympic Peninsula.

And it's a beautiful walk. If you're physically able to do it, you know, you're walking five miles out into the Strait of Juan de Fuca and you get to see ships and submarines and all kinds of wildlife in the wildlife refuge. And then by the time you make it out to the lighthouse, you visit the light station where there's cold, clean running water and a nice clean bathroom and you get to visit the light station and then turn around and head home for the day. The other type of people that stay out there are the keepers. And we run the program as a keepers' program. It's not a bed and breakfast or a vacation stay. When you stay out at the lighthouse, you stay out there for a week at a time. We give you a ride out and we give you a ride back.
But in between the station is yours. So you and your friends or you and your family, you are keepers, you're modern day keepers, you're responsible for raising and lowering the flag and keeping the bathroom clean and giving all the tours and general maintenance. It's your job to water that lawn and mow that lawn and edge the sidewalk and wash windows and do any general maintenance that you're able to do. We have a list of required things that you have to do with your group for the week. And then if you might happen to have some additional skills, like maybe you clean houses for a living. We have you do a deep clean or you were an electrician or you are a licensed electrician and we might have you do some minor electrical thing that needs to be taken care of.
If you were a carpenter, we might have you work on a door that's sticking. So there's a lot of different things that can be done out there. And it really is an immersive experience for the people that stay out. It sure.
JEREMY
It looks like a really successful program. How many people take part in that each year?
CHAD KAISER
It's a couple hundred every year. It really varies by the year. But it's around between 200 and 300 people a year that stay out at the lighthouse.
JEREMY
And what months of the year does it operate?
CHAD KAISER
It's 365 days a year. We're very, very proud to say that we've had keepers or volunteers, someone out on the station every single day since 1994 when we began taking responsibility for the station.
JEREMY
Living in New England like I do, it's amazing to me that someplace can operate every day of the year at this latitude.
CHAD KAISER
Well, there are only windows when we can go back and forth to the lighthouse. Even if I want to go out there to handle a small project, it usually means that I have to stay out there a minimum of 24 hours because there's a tide window that we have to have to work within to drive on the beach when the tide's high there's no beach to drive on. So a lot of times we'll drive out there on the low tide and then the tide'll come back in and 24 hours later is the next nice low tide where we can come back in to shore.
JEREMY
You were touching on this a little bit, but what are some of the other challenges, the biggest challenges, the New Dungeness Light Station has faced over the years. I'm sure there's been many challenges.
CHAD KAISER
There are daily challenges and we kind of laugh at ourselves as to the fact that every time we clear one hurdle, there's certainly another one. And it's a matter of just keeping in front of the maintenance issues and the challenges that we meet out there. You know, the first major challenge is the location. You either go out there at low tide or you go out there by boat and both things take significant planning ahead of time. And the station for the West Coast is a fairly old station. It's over 155 years old now. So we joke that it's like having a Victorian house and a boat combined in one.
You have all the terrible things that happen in a saltwater environment with anything. Plus you have a structure that's over 150 years old. So there's always something to maintain. There's always something to repaint and that's not unique to our station. But the difficulties getting out there are very similar to an island. And we have, you know, we have three pickup trucks and two UTVs and a septic trailer and a utility trailer and we've got a 18-foot-long aluminum flat bottom boat that we use to get out there and we have a 30-foot-long diesel powered landing craft that we use to get out there. And although all of those things are challenging to maintain, they're all required to keep the station going.
JEREMY
What would you say to a person or persons who are thinking about visiting? They're not taking part in the keeper program, but just, you know, visiting out there for a few hours or whatever, doing the long walk out there, what should they expect? Are there guided tours when they get out there or self-guided tours or how does that work exactly?
CHAD KAISER
The station, with the volunteer keepers that are out there, it's open every day from 9:00 a.m. to 5:00 p.m. And during that time, tours are given of the entire station.
JEREMY
So it's actually the so-called keepers who are staying out there who provide the tours for other visitors.

CHAD KAISER
Yes. And it's not just the lighthouse, it's not just going up and down the stairs. There's an interpretive trail that runs around the property and I talk about the fact that there's fresh water out there and that may not sound too unique to some of your listeners, but we're the closest spit of land—the closest bit of land to where the lighthouse is, is about three miles away. So we're out in the middle of the salt water and we have a, an artesian well onsite that produces very, very clean water.
So when people visit the site, they're kind of surprised that there's water out there, let alone such high quality water. And one of the other things that people love is the fact that there's a bathroom out there because they sometimes don't expect that after this long walk out to a remote location. And that's our responsibility to take care of also. And we also have a museum at the base of the lighthouse that has a couple of classic Fresnel lenses and some interpretive material on the history of the station.
JEREMY
What's some of the wildlife that people are likely to see when they walk out there? I'm talking about animals. Not, not wild—
CHAD KAISER
No, not wild people. It depends on what time of year you visit. But there's bald eagles and there's different hawks and out on the station right now we have an otter that's living under the barn, which is both really interesting and very smelly. We have an ermine that hangs around the station. There are coyotes out there. Out in the strait occasionally you can see whales. We're not a great whale watching location.
JEREMY
Orcas?
CHAD KAISER
We do see them occasionally, but they mostly transit by us rather than spend time near the lighthouse. So a couple of times a year we'll see gray whales and we'll see orcas.
JEREMY
Porpoises, maybe?
CHAD KAISER
We see them also. But again, it's not a great place. There are other lighthouses in the Puget Sound area that are better for that. But lots and lots of seals. And a couple of years ago we had several snowy owls that came down, so we were able to see them. And there are dozens and dozens and dozens of other waterfowl that stop at the spit on their way south or their way north or their way someplace else.
JEREMY
It sounds like an amazing place and I've got to get out there sometime.
CHAD KAISER
I've worked out there for, you know, since 2011 now. And every time I go out there, I'm usually working on some project and it's amazing. I'll stop and I'll realize how beautiful the location is. You know, you're watching the sun go down or you're looking at the snow on the mountains in the Olympics or you're looking across to Victoria, Canada, and seeing some of the cruise ships go by. I have no problem bragging about how beautiful the location is. It's a pleasure to work out there.
JEREMY
I'm looking behind you here, looking out where we are right here at Point No Point. I just feel lucky to be able to visit here. And you actually, when you worked for the U.S. Lighthouse Society, you lived here for three years.
CHAD KAISER
I was fortunate here too. Yes. I lived in a cottage that's just a quarter mile down the road and it had direct beach access and really, really neat place to be.
JEREMY
Yeah. Yeah. I've really enjoyed my stay here the last couple of days. I've seen a couple of spectacular sunrises looking out at the Cascades here. It's pretty special here as well. It's a beautiful part of the world here.
CHAD KAISER
Living here for a number of years, it was really interesting. You talk about sunrises and sunsets, but specifically with the sunrise, it would change as the year went on. You know, in the middle of winter, it was way down south almost towards Seattle as it was coming up. In the middle of the summer, it was way north almost by Mount Baker and it was really neat to see it change as the year progressed.
MUSICAL INTERLUDE
JEREMY
Okay, it's time now for the segment of Light Hearted where we discuss a segment of lighthouse history. Last time we started with the very beginnings of the use of light for navigation. Today we're going to tell you about the Pharos of Alexandria, which can rightfully be called the granddaddy of all lighthouses. It was an architectural and technological triumph and is considered one of the seven wonders of the ancient world.
CINDY JOHNSON
The Macedonian conqueror Alexander the Great founded the city of Alexandria around the Nile River Delta in 332 BC and it included an island called Pharos that had served as a refuge for pirates. Alexander died nine years later and the city was completed by Ptolemy Soter, the new ruler of Egypt.
JEREMY
Ptolemy wanted a suitable structure to guide vessels into the harbor at Alexandria and to serve as a symbol of his great city. So he authorized the building of a lighthouse, the Pharos of Alexandria in 290 BC. A lighthouse was a necessity if Alexandria was to grow as a maritime port because the west coast of Egypt is flat, making it difficult to see from the ocean. The great novelist and Alexandria expert E.M. Forster suggested that the lighthouse was also used as part of a system for relaying messages to other towers on the North African coast.
CINDY
The lighthouse stood at the northern tip of Pharos Island, which is at the mouth of the Eastern Harbor of Alexandria. For many years, a causeway provided access to the island. The Pharos of Alexandria would take at least 20 years to complete. Construction started around 299 BC and the lighthouse opened around 279 BC with a tremendous festival.
JEREMY
Legend has the lighthouse as tall as 1500 feet, but the true height was probably somewhere close to 400 feet. Each side of the lighthouse base was 100 feet across and a large courtyard surrounded it. The tower was built mostly of blocks of limestone and was constructed in three tapering tiers with statues of the Greek god Triton, messenger of the sea, positioned at four corners. At the summit for part of the tower's history was a giant statue that may have been Poseidon, god of the sea, or Helios, god of the sun.
CINDY
A wooden pitch fire burned continuously at the lantern level of the lighthouse, producing a light at night that could be seen nearly 30 miles to sea. The light was said to be so bright that it was sometimes mistaken for a star. Some historians have theorized that mirrors amplified the light and may have doubled as a sort of telescope allowing the spotting of approaching ships. There have even been legends that a mirror was used as a weapon to set fire to enemy ships as they approached.
JEREMY
In the Middle Ages, the Pharos of Alexandria was converted into a mosque. It was destroyed by an earthquake in the 1300s after standing for more than 1500 years. Parts of its ruins were incorporated into a fort on the site. In the fall of 1994, a team of archeological divers found blocks of stone and sculptures from the pharaohs of Alexandria.
CINDY
A detailed database of the artifacts was created, and the area is now an underwater archaeological park. Tourists with scuba gear can swim around the remains of the famous lighthouse. Because the world's first great lighthouse was built on the island of Pharos, the name became so famous that the word "pharos" became the root of the word lighthouse in the French, Italian, Spanish, and Romanian languages, and a person who studies lighthouses is known as a pharologist.
JEREMY
Next time we'll tell you about the ancient Roman lighthouse at Dover, England, the oldest standing lighthouse in the world.
MUSICAL INTERLUDE
JEREMY
Another thing we're going to talk about on this podcast from time to time is the subject of lighthouses in the movies. Today, we'll talk about a 1971 movie called The Light at the Edge of the World. It's available on DVD. It can also be seen on YouTube, although the copy on YouTube is really, really bad. I mean, really bad. Cindy, you borrowed the DVD from me. Did you try watching it?
CINDY
I did.
JEREMY
Okay, well maybe we can talk about that in a couple of minutes, but first of all, I watched it recently. I recorded a review. So let's listen to my review right now.
MUSIC
JEREMY
The popular French novelist Jules Verne wrote the book The Light at the End of the World in 1901 and it was published after his death in 1905. The inspiration for the setting of the novel was the San Juan De Salvamento Lighthouse off the tip of Argentina near Cape Horn. The story was set in the 1860s. The novel was adapted into a movie in 1971 with the name slightly changed to The Light at the Edge of the World. It was a coproduction between the production company of American star Kirk Douglas, who starred in the movie, and Alexander Salkyind's Vulkano Productions. The director was Kevin Billington, who had directed a 1970 comedy called the Rise and Rise of Michael Rimmer that starred among others, John Cleese and Graham Chapman of Monty Python fame.
The The Light at the Edge of the World was shot in Spain with an international cast and crew. Kirk Douglas starred as Will Denton, assistant lighthouse keeper, an American running from a dark secret in his past. His co-stars included Yul Brynner as the pirate captain Jonathan Kongre, the English actress Samantha Eggar is a shipwreck victim who was captured by the pirates, and Fernando Rey as the head lighthouse keeper. Here's a clip of Fernando Rey as the head keeper, a former ship captain, talking to Kirk Douglas as the assistant keeper.
FILM CLIP AUDIO
FERNANDO REY
That light is much too yellow. It's the whale oil. You can't see whale oil two miles.
KIRK DOUGLAS
I see it everywhere and smell it too.
FERNANDO REY
I've had ships. Mr. Denton—
KIRK DOUGLAS
Captain. This is not a ship.
FERNANDO REY
This isn't just another job, Mr. Denton, and that's not just another light.
KIRK DOUGLAS
Nope, it's an Argand burner, multi-wick, oil fed, dioptic system, with a beam—
FERNANDO REY
That's enough, Mr. Denton!
JEREMY
I watched the movie on a bad DVD copy bought through Amazon. The picture and sound quality are mediocre, but it's more watchable than the awful copy that is posted on YouTube. I can't really recommend that you spend $15 to buy the DVD, but the film does have its highlights. It's one of the rare adventure movies ever made where a lighthouse keeper is the hero. As my wife said when it was over, the moral of the story is, "Don't mess with a lighthouse keeper." Kirk Douglas, as usual, made a vigorous and compelling action hero and Yul Brynner, of course, brought his unique commanding presence to the role of the pirate captain who invades the island. The pirates, by the way, extinguish the light so that ships will run up on the rocks and they can salvage the cargo from the wrecks.
FILM CLIP
YUL BRYNNER
William Denton, this is your captain. Hear me. This light will burn no more.
JEREMY
Some aspects of the plot are muddled and confusing and the editing feels abrupt as if large chunks of film were excised to speed up the action. Worst of all, the movie is full of strangely sadistic scenes of extreme violence and animal cruelty. And—horror of horrors—even a scene where the Fresnel lens in the lighthouse is smashed, and the lighthouse itself is destroyed in the climax.
Apparently The Light at the Edge of the World was marketed as a typical Jules Verne family type adventure film, but it was far too nasty for that. So it's no wonder that it failed at the box office. But it's fun to watch Douglas as the lighthouse keeper tinkering with the lamp and lens. And for a while after the pirates takeover, it's enjoyable seeing him sneak around, picking off the bad guys, kind of like Bruce Willis in Die Hard. This is one of those movies where the plot, cast, and location are good and you want the whole thing to be better. In fact, this would be a good candidate for a remake by a skilled director. Overall, I give The Light at the Edge of the World, two and a half flashes out of a possible five.
So Cindy, you said you watched the movie. So what did, what did you think about it?
CINDY
I didn't mind it. I thought it was a decent movie. Basically your classic story of good versus evil, but with a lighthouse. And so for me, you really can't go wrong with a couple of really talented actors. Kirk Douglas is so easy to watch and it's also a treat to watch Yul Brynner as the bad guy. It wasn't the best movie.
JEREMY
I call it sort of a hidden—I don't know if, to me gem is a little bit of a strong word to use, but anybody, obviously people listening to us are interested in lighthouses. I don't know if I can recommend watching the version that's on YouTube, which is so, so hard to watch. It's such a bad copy. And I'm not sure I can quite recommend spending 15 or so dollars or whatever it is to buy the DVD on Amazon.
CINDY
And two hours.
JEREMY
It's more than two hours long.
CINDY
A little more than two hours and a little bit, a little bit of violence that was maybe unnecessary. But overall, if you're a fan of lighthouses, I think I actually would recommend it. I liked seeing scenes on the gallery and in the lantern room—
JEREMY
Yeah, it's, it's been kind of forgotten about. So, on that basis, I'd recommend it with qualifications.
CINDY
Right? Just for your big Kirk Douglas fans and/or big lighthouse buffs.
JEREMY
Yes. Yes.
CINDY
And now it's time for our trivia question.
[NOTE: THIS CONTEST IS NOW CLOSED]
JEREMY
Yes, it is. The first two people to answer this question correctly will win prizes. The first gets a 2019 U.S. Lighthouse Society calendar featuring photographs by 14 talented society members. The second gets a lighthouse illumination DVD. This video takes you on an animated tour through the history of lighthouse illumination.
CINDY
The question is actually a throwback to last week's podcast. What book is the 2019 Caldecott Medal winner for best American picture book for children? One more time. What book is the 2019 Caldecott Medal winner for best American picture book for children?
JEREMY
And how do people enter to win?
CINDY
They should send their answer to you in an email. So the email address is jeremy@uslhs.org. Jeremy at U S L H S. dot O R G
JEREMY
Right. Again, jeremy@uslhs.org. Please state that you are answering the trivia question in Light Hearted show number two and include your full name and mailing address. That's not your email address but your mailing address so we can send you the prize if you're the winner. Again, the first two people who answer correctly will win a prize.
MUSICAL INTERLUDE
Thank you to the management of the Exeter Inn where we've been recording this program today. Thanks to everyone with the U.S. Lighthouse Society, especially Jeff Gales, Maria Guevara, Tom Wheeler, Tom Tag, everybody at the offices at Point No Point in Washington. Very special thanks to Kirk Douglas and Yul Brynner and all the stars of The Light of the Edge of the World. And of course thank you to my cohost, Cindy Johnson. Any parting words, Cindy?
CINDY
Well, thank you Jeremy. I'm really excited to be part of another episode of Light Hearted and if I may just mention one more time to folks to maybe visit the website for Portsmouth Harbor Lighthouse to learn about our, events for our upcoming season, portsmouthharborlighthouse.org.
JEREMY
Well, thank you Cindy. And again, I hope some of our listeners might come and visit us at Portsmouth Harbor Lighthouse the summer.
CINDY
For sure.
JEREMY
And again, thank you all for listening, and until next time, keep a good light.
MUSIC
Jeremy D'Entremont is the author of more than 20 books and hundreds of articles on lighthouses and maritime history. He is the president and historian for the American Lighthouse Foundation and founder of Friends of Portsmouth Harbor Lighthouses, and he has lectured and narrated cruises throughout the Northeast and in other regions. He is also the producer and host of the U.S. Lighthouse Society podcast, "Light Hearted." He can be emailed at Jeremy@uslhs.org