Elizabeth Spires was born in Lancaster, Ohio, and she now lives in Baltimore, Maryland. She has always admired the poetry of Emily Dickinson, and by the time she was twelve she had decided to be a writer. When she was in college at Vassar, she began writing poetry seriously. That led to the publication of seven collections of poetry for adults, most recently A Memory of the Future, which was a New York Times Best Poetry Book of the Year.
Elizabeth has written seven children's books include The Mouse of Amherst, The Big Meow, and I Heard God Talking to Me, which was about the Nashville outsider artist William Edmonson. Her work has won many awards. Among others, she's been the recipient of a Guggenheim Fellowship, two fellowships from the National Endowment for the Arts, and the Maryland Author Award from the Maryland Library Association. I Heard God Talking To Me was named a School Library Journal Best Book of the Year.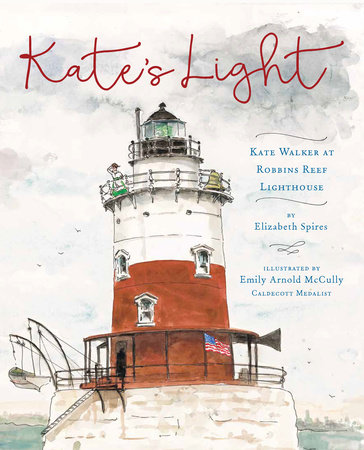 Elizabeth Spires' new children's book, Kate's Light, tells the true story of Kate Walker, the renowned keeper of Robbins Reef Lighthouse in New York Harbor. She lived at Robbins Reef for 33 years (1886-1919) and was known for her many rescues.
The book Kate's Light is illustrated by Emily Arnold McCully, a Caldecott Medal winner.
Kirkus Reviews said this about Kate's Light: "Kate comes alive through the combined talents of Spires and McCully, and their portrayal highlights how an ordinary woman can excel and pave the way for others by virtue of her dedication and fortitude."
Publishers Weekly had this to say: "Caldecott Medalist McCully's vivid ink and watercolor spreads bring to life the storms and waves that made Walker's work necessary, and brim with visual information about the lighthouse and the people who depended on it.
"Chapter book–style writing by Spires (The Big Meow) provides ample context and many anecdotes. An intrepid heroine in a lonely place, Walker had grit that makes for gripping reading."
Podcast: Play in new window | Download (Duration: 38:52 — 28.0MB) | Embed
Jeremy D'Entremont is the author of more than 20 books and hundreds of articles on lighthouses and maritime history. He is the president and historian for the American Lighthouse Foundation and founder of Friends of Portsmouth Harbor Lighthouses, and he has lectured and narrated cruises throughout the Northeast and in other regions. He is also the producer and host of the U.S. Lighthouse Society podcast, "Light Hearted." He can be emailed at Jeremy@uslhs.org