Nubble Lighthouse (ME) restoration nears completion
Restoration specialist Jim Leslie has worked on over 21 lighthouses, including sites up and down the Maine coast, such as Whaleback, Boon Island and Monhegan Island. But none of those other projects has been as fulfilling, he said, as working on his hometown beacon: Nubble Lighthouse.
The J.B. Leslie Company has completed the fourth phase of a restoration of the buildings on the Nubble. The restoration began in 2017.
*  *  *
Enhancements near Biloxi Lighthouse (MS)
Contractors are working to increase the number of parking spaces for Biloxi Beach guests near the lighthouse. Just south of Highway 90, across from the Biloxi Visitors Center, construction is underway and at the lighthouse, shrubs have been removed with grass for a more polished look. The over $530,000 project is scheduled to be complete in November.
*  *  *
Acadia National Park tackling parking crunch at Bass Harbor Head Lighthouse
Not every place in Acadia National Park has been impacted equally by this year's surge in tourism.  While the estimated number of visits to the park as a whole was up 22 percent through August, the Bass Harbor Head Light Station saw a 36 percent increase.
"This area continues to be one of the most popular and congested areas in the park," Management Assistant John Kelly told the Acadia Advisory Commission earlier this month. Kelly said the park has started a preliminary planning process with the support of the Denver Service Center, which is the central planning, design and constructing project management office for the National Park Service. 
*  *  *
Lighthouse Point Fest at National Lighthouse Museum (NY)
Sunday's perfect autumn weather will be the backdrop for the fifth annual Lighthouse Point Fest on Staten Island, New York. The event promises to celebrate the borough's maritime culture with free tours of the National Lighthouse Museum and a chowder sampling.
"We're the only event on this great Island that's on the harbor. It's a family-friendly outdoor event on a nice crisp fall day," said Linda Dianto, executive director of the National Lighthouse Museum.
National Lighthouse Museum website
*  *  *
Lighthouse Challenge of New Jersey has 10 Lighthouses and 3 Lifesaving Stations
The Lighthouse Challenge of New Jersey is an annual event that takes place the third weekend of October each year. This year it will be October 16-17. The challenge is to visit 10 land based lighthouses, 3 lifesaving stations, 1 museum, 1 virtual site and the Lighthouse Society of NJ site over the two day weekend. The challenge route covers the Atlantic Coast from Sandy Hook to Cape May and the Delaware Bay Coast from Cape May to Paulsboro. Take the challenge and learn more about these historic treasurers of New Jersey. While there is no fee to participate, a small registration fee enables you to collect a souvenir from each site.
*  *  *
Chris Manning named Gay Head Lighthouse (MA) keeper
Following a recommendation by the Gay Head Lighthouse advisory board, the Aquinnah select board appointed Chris Manning as the Gay Head Lighthouse keeper and Isaac Taylor as assistant lighthouse keeper.
In July, former lighthouse keeper Richard Skidmore retired after serving as lighthouse keeper for more than 30 years.
Click here to read more
*  *  *
Cape Hatteras Lighthouse (NC) repair project comment period opens
A public comment period opened Friday on a proposed project to repair the Cape Hatteras Lighthouse and surrounding landscape at Cape Hatteras National Seashore in North Carolina. National Seashore officials are asking for feedback by Oct. 17 to help identify issues, concerns and opportunities to be considered as part of an environmental assessment on the proposed project to repair or replace deteriorated interior and exterior elements of the lighthouse.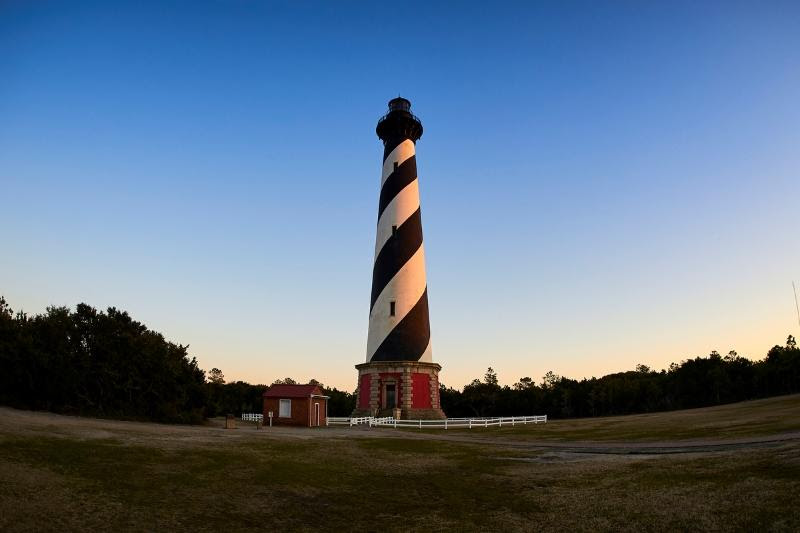 *  *  *
Point Iroquois Lighthouse (MI) repaired under Great American Outdoors Act
The Hiawatha National Forest has completed its first Great American Outdoors Act Project. The act makes major investments in recreation infrastructure, public lands access, and land and water conservation.
Forest personnel have made essential repairs to the historic Point Iroquois Lighthouse. They include peeling away old paint and sealant and replacing them with breathable masonry and reconstructing a rock wall.
*  *  *
Group raises money for long-term upkeep of historic Five Fingers Lighthouse (AK)
A work party for the Five Finger Lighthouse Society has tackled a list of projects, winterizing the building, draining pipes, putting away equipment, and buttoning up windows and doors. Interpretive signs along the trails of the small island are stowed away until next year. The society has assumed ownership and maintenance of the light; for years a Juneau-based organization did that work. Now this group of Petersburg residents is putting more shingles on a new roof for the boathouse. The old one blew off last winter. They're also getting a troublesome generator to run.
* * *
Morris Island Lighthouse (SC) to light up tonight for special anniversary
The Morris Island Lighthouse will once again shine bright at night! The historic light will be lit up on Friday, Oct. 1 from 8 p.m. until 11 p.m. This coincides with the 145th anniversary of the Old Charleston Light's first lighting, which took place on Oct. 1, 1876. The special event is being put on by Save the Light, Inc. and Dominion Energy.
*  *  *
Fall Lighthouse Festival in Wisconsin, Oct. 1-3
The 2021 Fall Lighthouse Festival, running Oct. 1-3, includes air, land-based, boat and adventure tours that reach all 11 of Door County's lighthouses and three to the south. Many of the tour excursions take place only during the Lighthouse Festival and provide exclusive access to several structures that are not typically open to the public, including the Chambers Island Lighthouse, Kewaunee Pierhead Lighthouse, and Plum Island Range Lights.
*  *  *
St. Augustine Lighthouse (FL) receives state appropriation to restore tower interior
The St. Augustine Lighthouse & Maritime Museum has been awarded an appropriation by the State of Florida to restore and preserve the interior of its tower. The majority of the work will be completed in 2022. The internal restoration project is sponsored in part by the Department of State, Division of Historical Resources and the State of Florida and will involve painting the inside of the tower and restoring original metalwork.
*  *  *
Celebrate 153 years of Cape Canaveral Lighthouse (FL) history at the American Muscle Car Museum Oct. 23
The Cape Canaveral Lighthouse is 153 years old and will be celebrated with a special evening on October 23 at the American Muscle Car Museum, a 123,000-square-foot complex that houses a collection of more than 300 cars.
*  *  *
U.S. Lighthouse Society News is produced by the U.S. Lighthouse Society to support lighthouse preservation, history, education and research.
If you have items of interest to the lighthouse community and its supporters, please email them to Jeremy D'Entremont at Jeremy@uslhs.org
Jeremy D'Entremont is the author of more than 20 books and hundreds of articles on lighthouses and maritime history. He is the president and historian for the American Lighthouse Foundation and founder of Friends of Portsmouth Harbor Lighthouses, and he has lectured and narrated cruises throughout the Northeast and in other regions. He is also the producer and host of the U.S. Lighthouse Society podcast, "Light Hearted." He can be emailed at Jeremy@uslhs.org