California Department of Parks and Recreation requests $12.2 million for Pigeon Point Light Station
A budget request for the California Department of Parks and Recreation was recently submitted to the State Legislature. Included in the request is $12.2 million for stabilization and rehabilitation of Pigeon Point Light Station near Pescadero. The tower has been closed since 2001.
The tower suffered severe damage after two large pieces of brick and ironwork fell from the top. After ownership was transferred to California State Parks in 2011, the State has been trying to raise money to take on the task of restoring the tower.
Around 200,000 visitors visit the park annually. "It's one of the most visited lighthouses on the West Coast," said Julie Barrow, special projects coordinator for Pigeon Point Light Station State Historic Parks.
Officials hope to offer tours to the public and return the first-order Fresnel lens to the lantern. Barrow estimates the restoration project will take about two to three years. The final budget is expected to be approved in June.
* * *
Ancient Turkish Lighthouse to be rebuilt with original stones
A lighthouse that was initially constructed in 64 A.D. in the ancient city of Patara, located in southern Turkey's Antalya province, will be reconstructed using its original stones.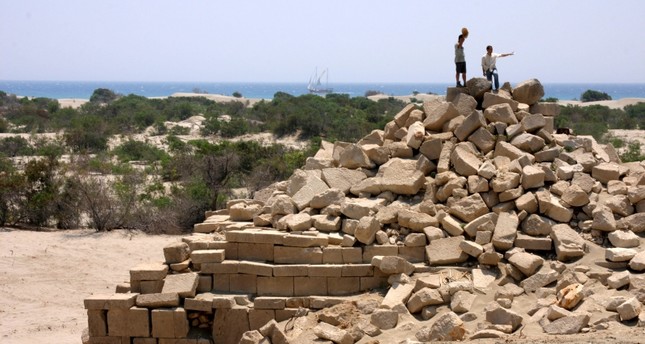 Havva Işık, the professor who will be leading the archeological works on the lighthouse, noted that the structure is not the earliest known lighthouse, but the earliest lighthouse whose original material remains.
Click here to read more about this story
* * *
Grant from DAR will enable new exhibit at Bakers Island Light Station (MA)
Bakers Island Light Station in Salem, Massachusetts, will be getting a new exhibit in 2020. The exhibit in the assistant keeper's house will show visitors what life was like there, thanks to a grant from the Daughters of the American Revolution. It will include informative panels, reproductions of historical documents, and displays of tools, equipment and clothing used by lighthouse keepers of the 18th, 19th, and 20th centuries.
"We look forward to sharing the many fascinating stories of families who worked and lived at the light station," said Annie Harris, CEO of Essex Heritage. Tours of the lighthouse are offered on Fridays, Saturdays and Sundays beginning June 15. For information about tours, visit www.bakersislandlight.org.
* * *
"The Lighthouse" premieres to raves at Cannes
The film The Lighthouse, a fantasy-horror film written and directed by Robert Eggers and starring Willem Dafoe and Robert Pattinson, premiered at the Cannes Film Festival in France to rave reviews. Critics have called it a "wholly original masterwork," a "mad masterpiece," and an "absolute dazzler." The movie is described as a black and white hypnotic and hallucinatory tale of two lighthouse keepers on a remote and mysterious New England island in the 1890s. It was shot on Cape Forchu in Yarmouth, Nova Scotia, Canada. An American release date has not been announced.
* * *
New lighthouse in India delayed by bad weather
The construction of a new, traditional-style lighthouse at Uttan, north of Mumbai, India, has been delayed by rough weather. Groundbreaking for the construction took place in February and the work was expected to be completed in three months.
* * *
"Light Hearted" – U.S. Lighthouse Society podcast premieres on June 3
A new podcast featuring lighthouse-related interviews and other features will launch on Monday morning, June 3. The podcast, "Light Hearted," will be hosted by author/historian Jeremy D'Entremont. It will available on the U.S. Lighthouse News website at news.uslhs.org and through Apple Podcasts on the App Store and iTunes.
What does the title mean? "Light Hearted signifies the idea of people who have lighthouses in their hearts," says Jeremy D'Entremont. Although the word lighthearted often refers to humor, the podcast will be a mostly serious look at the world of lighthouses in all their aspects. Although the podcast won't be a set length, most editions will be around a half hour. There will be at least one released per week on Mondays, but some weeks there will be more than one edition of the podcast released.
The premiere edition on June 3 will feature an interview with Sophie Blackall, popular children's book author and illustrator. Her book Hello, Lighthouse won the Caldecott Medal as the most distinguished American picture book for children of 2018. Future editions of Light Hearted will feature interviews with people from across the lighthouse world — directors of lighthouse-related organizations, historians and writers, former lighthouse keepers, and many more.
Jeremy D'Entremont is the author of more than 20 books and hundreds of articles on lighthouses, including many articles in the U.S. Lighthouse Society's Keeper's Log. He is also president and historian of the American Lighthouse Foundation and founder of Friends of Portsmouth Harbor Lighthouses, and he has appeared on many national TV and radio programs speaking about lighthouse history. He lives in Portsmouth, New Hampshire.
Along with Jeremy there will be guest co-hosts including Friends of Portsmouth Harbor Lighthouses operations manager Cindy Johnson and award-winning volunteer Michelle Jewell Shaw. Other features will be trivia questions (with prizes!), segments about the history of the world's early lighthouses and related technology, and movie and book reviews. There are also plans to include features from guest correspondents from around the U.S. and possibly other countries.
There will also be opportunities for listeners to provide feedback and ideas for the content of future editions of Light Hearted.
* * * * * *
U.S. Lighthouse Society News is produced by the U.S. Lighthouse Society to support lighthouse preservation, history, education and research. You can receive these posts via email if you click on the "SUBSCRIBE" button in the right-hand column. Please support this electronic newsletter by joining the U.S. Lighthouse Society if you are not already a member.
If you have items of interest to the lighthouse community and its supporters, please email them to Jeremy at jeremy@uslhs.org
Jeremy D'Entremont is the author of more than 20 books and hundreds of articles on lighthouses and maritime history. He is the president and historian for the American Lighthouse Foundation and founder of Friends of Portsmouth Harbor Lighthouses, and he has lectured and narrated cruises throughout the Northeast and in other regions. He is also the producer and host of the U.S. Lighthouse Society podcast, "Light Hearted." He can be emailed at Jeremy@uslhs.org