England's Orfordness Lighthouse could fall victom to erosion
Orfordness Lighthouse on Orford Ness, in Suffolk, England, was decommissioned in 2013 because of the encroaching sea. The 98-foot-tall brick tower was completed in 1792.
After decommissioning, the lighthouse was purchased by the Orfordness Lighthouse Trust. Under the Trust's stewardship, volunteers have placed gravel-filled bags to help protect the low cliff in front of the lighthouse. In 2005, the lighthouse stood about 20 meters (65 feet) from the sea, but today the gap is just a fraction of that.
Volunteers believe it could now fall into the sea, as there is now no beach left below it. They are hoping to dismantle the building and to erect a smaller replica nearby.
* * * *
Florida Lighthouse Association grants $38,000 for repairs to keepers' house at Cape San Blas Light Station
The St. Joseph Historical Society recently received a grant from the Florida Lighthouse Association for $38,000 to repair damages from Hurricane Michael at the Cape San Blas Lighthouse Keeper's Quarters. The FLA provides grants through revenue received from the sale of the Florida LIGHT license plate and private donations.
* * * *
"Hello Lighthouse" author/illustrator Sophie Blackall to be keynote artist at"Keepers of the Lighthouse" celebration in Oswego, NY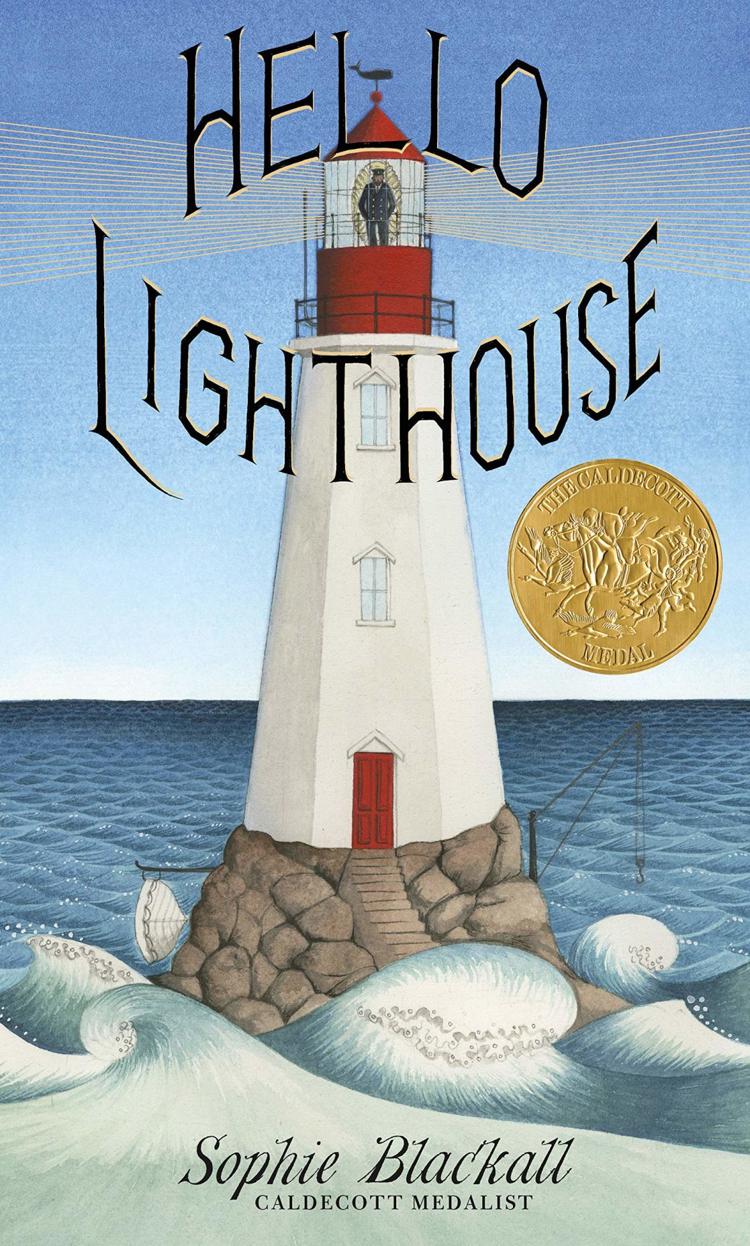 Caldecott Medal winner Sophie Blackall will be the keynote artist in the inaugural "Keepers of the Lighthouse" celebration, a new collaboration of local organizations and businesses to boost cultural awareness and appreciation of the Port City's history and landmarks. On July 23 at 10 a.m., Blackall will be reading and signing copies of "Hello Lighthouse" at the river's end bookstore. Blackall's "Hello Lighthouse" charts the life of a lighthouse keeper, his family and their beloved home.
Presented by the Children's Board of Oswego in collaboration the river's end bookstore, the H. Lee White Maritime Museum and Oswego Harborfest, "Keepers of the Lighthouse" is a multi-day event designed to appeal to families and lifelong learners.
An interview with Sophie Blackall was featured in the USLHS podcast "Light Hearted"
Click here for more on this story
* * * *
Will Cape Hatteras Lighthouse (NC) have to be moved again within 50 years? "It's certainly possible."
Although it was moved just 20 years ago, Cape Hatteras Lighthouse might have to be moved again as the Outer Banks sands near the Buxton point wane and gain. "Yes, absolutely," said Stan Riggs, a coastal geologist and professor at East Carolina University. "It's a changing system and we have to be resilient."
The sea level has risen two to three feet since explorers landed here in the late 1500s, Riggs said. The narrow strip of barrier island has migrated thousands of feet westward, according to surveys going back to the 1800s. Riggs has maps showing the lines of each survey.
Click here for more on this story.
* * * *
Barnegat Lighthouse (NJ) turns 160 this year
New Jersey's beloved "Old Barney" is celebrating its 160th birthday this summer. In 2018, 77,651 people went up the lighthouse's 217 steps to see the incredible views firsthand.
"When visitors come here the first thing they want to do is climb the lighthouse and get the panoramic view of the whole island. We have fisherman here all the time," said volunteer Michael Banks. "Even watching the boats go in and out it's a very peaceful place to be."
* * * *
GSA auction begins for Superior Entry Lighthouse, Wisconsin
"An historic, rectangular-shaped concrete fog signal building topped with concrete cylindrical tower, 56 feet in height. The foundation encloses a basement, a two-story main building with living quarters and an integral light tower surmounted by a lantern. The superstructure is five stories in height with rectangular windows and painted white with black trim, while the main roof and lantern roof are red. The lantern is surrounded by a circular gallery."
Click here for the auction site
* * * *
Special Alki Point Lighthouse (WA) tour this Sunday will spotlight women's history
Sunday, July 14th, 3:45-4:30 p.m. tours will be led by US Coast Guard Auxiliary volunteer docents. Come learn about women's role in running lighthouses in the Northwest and beyond, along with tours of the 106-year-old active lighthouse and viewing of artifacts and displays about Alki Point Lighthouse's history.
* * * *
Overnight stays now available at White Shoal Lighthouse in Michigan
There are a lot of people who fantasize about journeying to their own tropical island in the middle of an ocean, but this is a little different. How about escaping to a lighthouse in the middle of the Great Lakes? For select dates in August, the White Shoal Light Historical Preservation Society is offering people a chance for overnight stays at the lighthouse, which is located in the Straits of Mackinac.
* * * * * * * *
U.S. Lighthouse Society News is produced by the U.S. Lighthouse Society to support lighthouse preservation, history, education and research. You can receive these posts via email if you click on the "SUBSCRIBE" button in the right-hand column. Please support this electronic newsletter by joining the U.S. Lighthouse Society if you are not already a member.
If you have items of interest to the lighthouse community and its supporters, please email them to Jeremy at Jeremy@uslhs.org
Jeremy D'Entremont is the author of more than 20 books and hundreds of articles on lighthouses and maritime history. He is the president and historian for the American Lighthouse Foundation and founder of Friends of Portsmouth Harbor Lighthouses, and he has lectured and narrated cruises throughout the Northeast and in other regions. He is also the producer and host of the U.S. Lighthouse Society podcast, "Light Hearted." He can be emailed at Jeremy@uslhs.org