South Bass Lighthouse (OH) tours start May 7
PUT-IN-BAY – Visitors to South Bass Island this summer have the chance to explore Lake Erie science and history at the South Bass Island Lighthouse.
The South Bass Island Lighthouse, which was completed in 1897, is located at the southwest tip of the island and was in operation until 1962. The lighthouse grounds are open to the public dawn to dusk free of charge unless otherwise posted, with physical distancing protocols in place. Tours for groups of five or fewer are offered on Fridays from 9-9:30 a.m., 9:30-10 a.m., 10-10:30 a.m. and 10:30-11 a.m. (or by appointment) starting May 7, at a cost of $5 per person (free for children ages 3 and under).
The tour registration form is available here.
* * *
First steps of the Cape Hatteras Lighthouse (NC) restoration
Climbing at the Cape Hatteras Lighthouse may be suspended until late summer, but when visitors return, they'll be greeted by a fresh new interior that belies the lighthouse's 151 years of operation. A team of historical architects and engineers, along with personnel from the State Historic Preservation Office and the Cape Hatteras National Seashore, are continuing to review the lighthouse's condition and determine the best next steps, while workers from Heritage Contracting of Chesapeake, Virginia, have already started the difficult process of removing more than a century of paint from the 12-story structure.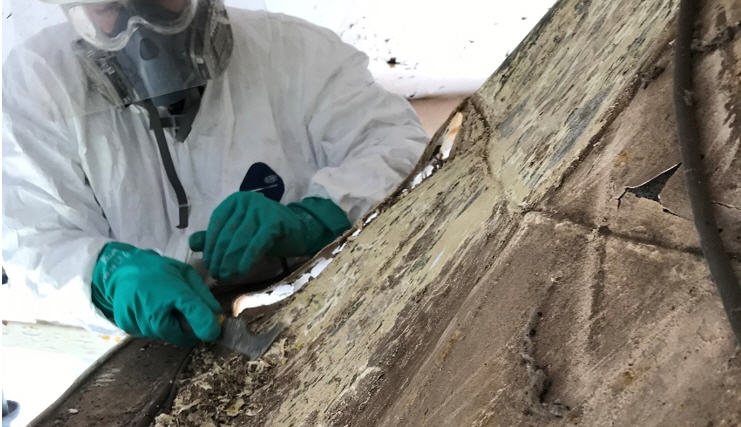 * * *
Huron County's lighthouses (MI) to reopen after year of COVID closures
After a year of being closed due to the coronavirus pandemic, Huron County's three lighthouses are working on plans to reopen to the public later this year, with the right precautions in place. The Harbor Beach Lighthouse Preservation Society plans on having the lighthouse fully open for tours on the last Saturday of June, with plans to have the tours take place on every weekend until Labor Day weekend.
The Pointe aux Barques Lighthouse plans on opening on Memorial Day weekend, with its season continuing to the end of September. The Port Austin Lighthouse will reopen for tours starting on Memorial Day weekend, and run on Saturdays until Labor Day weekend.
* * *
Smooth sailing for St. Augustine Lighthouse (FL) funding
St. Augustine Lighthouse will get money for a restoration project in the 2021-22 Florida budget, assuming it avoids another veto from Gov. Ron DeSantis. Each year, 216,000 people visit the lighthouse museum, operated by staff and 266 volunteers.
* * *
City of Warwick, RI, seeks $775K to restore Conimicut Lighthouse
In a matter of hours after learning of possible grants from the office of Congressman James Langevin, Mayor Frank Picozzi's administration drafted a $775,000 grant application supported by letters from 19 organizations and individuals to restore the historic Conimicut Lighthouse and build an interpretative kiosk at Conimicut Point Park. While it was a scramble to meet the deadline for a federal Economic Development Initiative (EDI) grant, there was no lack of enthusiasm to restore the light that the Coast Guard turned over to the city 17 years ago.
Click here to read more
* * *
Hook Lighthouse (Ireland) 'overjoyed' to be welcoming back visitors as reopening date announced
The 800-year-old Hook Lighthouse will reopen to the public on Saturday, May 1, following its closure due to COVID-19. The iconic attraction will open for weekends only from 10 a.m. until 5 p.m. until the current COVID restrictions allow for guided tours of the medieval lighthouse tower and the Hook Lighthouse gift shop to reopen.
* * *
Point San Luis Lighthouse (CA) tours resuming May 1
Beginning May 1, in person tours at Point San Luis Lighthouse will be available every Saturday at 12:00 noon and 1:00 p.m. Enjoy a scenic ride up Lighthouse Road aboard a SLO Safe Ride van to the Point San Luis Light Station where you will be met by a docent and led on a guided tour of the facilities at this magnificent historic site. In order to insure the safety of visitors and staff, masks will be required and state social distancing requirements will be observed.
* * *
U.S. Lighthouse Society News is produced by the U.S. Lighthouse Society to support lighthouse preservation, history, education and research.
If you have items of interest to the lighthouse community and its supporters, please email them to Jeremy D'Entremont at Jeremy@uslhs.org

Jeremy D'Entremont is the author of more than 20 books and hundreds of articles on lighthouses and maritime history. He is the president and historian for the American Lighthouse Foundation and founder of Friends of Portsmouth Harbor Lighthouses, and he has lectured and narrated cruises throughout the Northeast and in other regions. He is also the producer and host of the U.S. Lighthouse Society podcast, "Light Hearted." He can be emailed at Jeremy@uslhs.org