Two iconic Rhode Island Lighthouses available to new owners
They are landmarks: Beavertail Lighthouse and Watch Hill Lighthouse in Rhode Island. Now the U.S. Coast Guard is transferring their ownership. First dibs go to the nonprofits or state and local governments that have been running them for decades. But any qualified applicant can make a pitch for purchase.
Ann Snowden Johnson, who's the president of the Watch Hill Lighthouse Keepers Association, said, "We would like nothing more than to continue what we've been doing, and to maintain this property as the iconic wonderful site that it is," in response to the request for applications. Beavertail Light has been managed under a partnership with the Rhode Island Department of Environmental Management, the Town of Jamestown, and the Beavertail Lighthouse Museum Association.
Click here for a fact sheet on Watch Hill Light Station
Click here for a fact sheet on Beavertail Light Station
Click here for more information
* * *
Duluth Harbor North Pierhead Light (MN) available to a new steward
Under the guidelines of the National Historic Lighthouse Preservation Act, Duluth Harbor North Pierhead Light in Minnesota is being offered at no cost to a variety of government agencies, nonprofits, and community development organizations for a range of purposes from educational to preservation. It will be sold if it's not transferred to a public body or nonprofit. The 43-foot-high lighthouse is at the end of the north breakwater of Duluth's shipping canal. It was built in 1910 and is listed on the National Register of Historic Places.

Click here for a fact sheet on this lighthouse
* * *
Cleveland Harbor West Pierhead Lighthouse (OH) to be transferred
The federal government is giving away a famed Lake Erie lighthouse on Cleveland's shoreline, but there is a catch. The General Services Administration announced on Thursday that the Cleveland Harbor West Pierhead Lighthouse "has been determined to be excess to the needs" of the United States Coast Guard and Department of Homeland Security. Because of that ruling, the lighthouse will be made available at no cost, but the entity to take the structure over must meet certain criteria, per the National Historic Lighthouse Preservation Act of 2000.
* * *
Choptank River (MD) Lighthouse Tender back after winter fix-up
The replica 1859 screwpile Choptank River Lighthouse, built in 2012 to welcome visitors to Cambridge, Maryland, on Long Wharf, sent its tender boat away for a makeover this offseason. The boat is now back to flank the lighthouse with a fresh new look.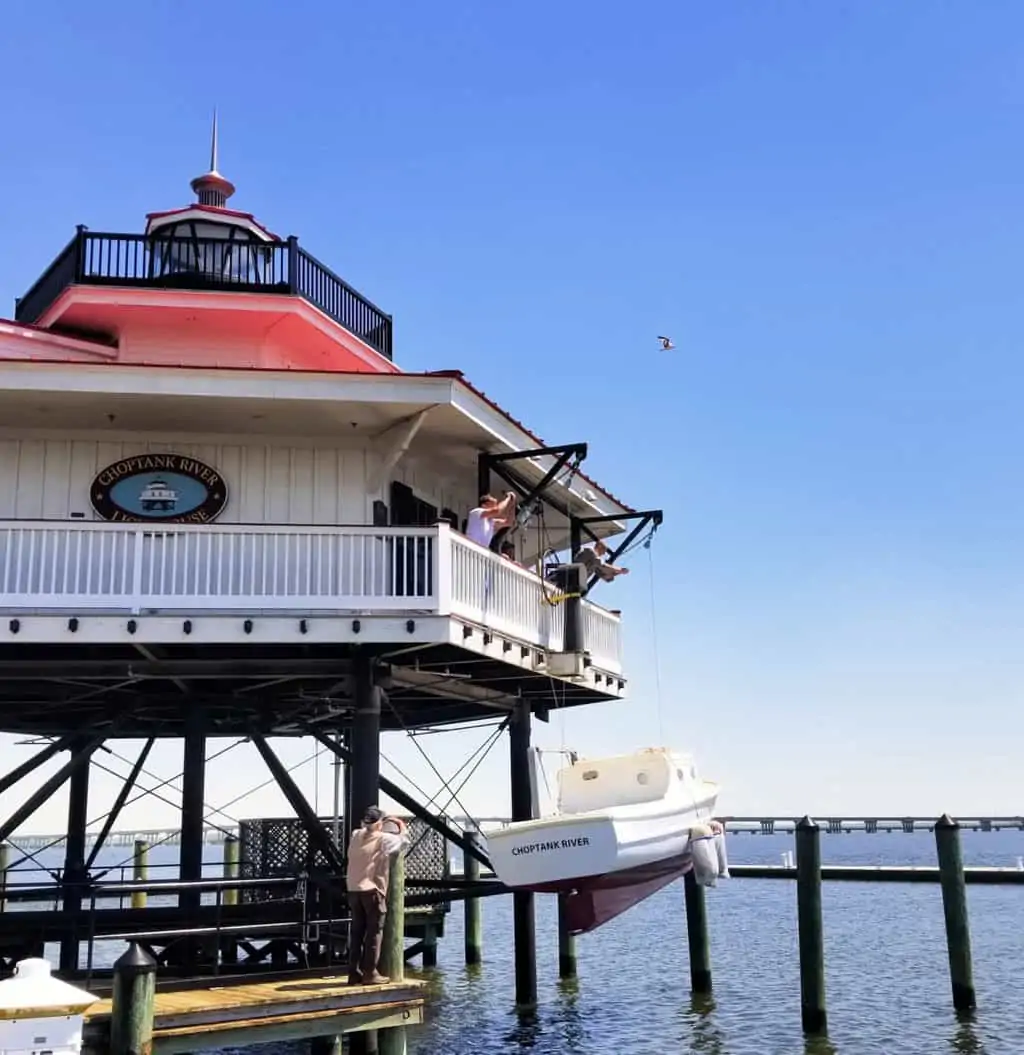 Miss Polly, the 22-foot launch, has been suspended by davits off the side of the lighthouse since it was added to the lighthouse in 2015. Since then, lighthouse caretakers say the tender has taken a beating hanging outside year-round in wind, rain, snow, and salt. "Every boat owner either knows how important preventive maintenance is or learns it the hard way," says Cassie Burton, president of the nonprofit Cambridge Lighthouse Foundation. "It's wonderful to have Miss Polly back and looking like new again, thanks to the work of skilled artisans right here in our community."
* * *
Changes for visitors at Bodie Island Lighthouse (NC)
If you're planning a visit to the Bodie Island Lighthouse, Cape Lookout National Seashore officials want to remind you of some changes. This season, climbing hours have been extended. You can start your climb at 9 a.m. or as late as 5:30 p.m. Tickets can only be purchased the day of your intended climb.
* * *
Plans for restoration of Huron Island Lighthouse (MI)

The United States Fish and Wildlife Service has released a modified plan for renovations of Michigan's Huron Island Lighthouse and surrounding structures. This comes after weighing four potential courses of action and receiving public input. Refuge Manager Sara Siekierski says the agency has opted for a Cultural Resources Management Plan that preserves the oldest buildings while removing those tied to US Coast Guard operations built in the 1970s. The Huron Island Lighthouse Preseveration Association and the Keweenaw Bay Indian Community have been instrumental in the completion of this plan.
* * *
Pomham Rocks Lighthouse (RI) gets its lens back
A lighthouse's Fresnel lens is sometimes referred to as its very soul. Constructed of multi-faceted glass prisms arranged in concentric circles, the lenses are both an engineering masterpiece and a priceless work of art. Pomham Rocks Lighthouse, built in 1871 on an island off the coast of East Providence, Rhode Island, was first lit with a 6th-order lens. Around 1926 a more powerful fourth-order lens was installed. The lens remained in operation until 1974. The Fresnel lens was later loaned by the Coast Guard to the Custom House Maritime Museum in Newburyport, Massachusetts, where it was displayed for more than four decades.
To mark the 150th anniversary of Pomham Rocks Lighthouse this year, the nearly century-old Fresnel lens is being brought back to its original home this fall. The lens will be the centerpiece of a museum exhibit at the lighthouse. For information on upcoming events to celebrate Pomham's jubilee year or to join Friends of Pomham Rocks Lighthouse, visit www.pomhamrockslighthouse.org.
Click here for more information
* * *
Historic Blacksod Lighthouse (Ireland) is leased for guided tours

Blacksod Lighthouse will be open to the public this summer after Mayo County Council formally agreed to lease the building to a local development company. Last month it was announced that guided tours will be available at the lighthouse after it was confirmed that a lease agreement had been reached with Mayo County Council and Comharchumann Forbartha Ionad Deirbhile (CFID).
Click here for more information
* * *
Should Ocracoke Light Station (NC) be repaired, relocated, or both? Public invited to weigh in on preservation options
Representatives from the National Park Service (NPS) hosted two meetings over the past week to start the ball rolling on a future renovation and/or relocation project for the Ocracoke Light Station. Built in 1823, Ocracoke Island Lighthouse is the oldest functioning lighthouse in North Carolina. There are a number of reasons why a restoration project is needed for the centuries-old site, starting with its vulnerability to storm surge and flooding.
* * *
Future of Chebucto Head foghorn in Halifax Harbour (Nova Scotia, Canada) up in the air
A foghorn at the Chebucto Head Lighthouse in Nova Scotia's Halifax Harbour has been warning seafarers of pending danger since 1892. But it went silent in February and the Canadian Coast Guard says it has no plans to fix it, at least for now. A review has been completed and the Coast Guard's findings will be published online at the end of the month.
* * *
Trinity House to replace Channel Lightvessel with buoy (England)
Trinity House will replace the Channel Lightvessel — one of the few lightships in the world still in service — with one of its largest Safe Water Mark buoys. The operation to tow the light vessel and deploy a replacement buoy is set to take place mid-August.
Click here for more information
* * *
Maine lighthouse license plate becoming a reality
Maine's Governor Janet Mills has signed L.D.266 "An Act to Create the Maine Lighthouse Trust Registration Plate" into law.
Click here to read more on the Maine Lighthouse Trust website
* * *
U.S. Lighthouse Society News is produced by the U.S. Lighthouse Society to support lighthouse preservation, history, education and research.
If you have items of interest to the lighthouse community and its supporters, please email them to Jeremy D'Entremont at Jeremy@uslhs.org
Jeremy D'Entremont is the author of more than 20 books and hundreds of articles on lighthouses and maritime history. He is the president and historian for the American Lighthouse Foundation and founder of Friends of Portsmouth Harbor Lighthouses, and he has lectured and narrated cruises throughout the Northeast and in other regions. He is also the producer and host of the U.S. Lighthouse Society podcast, "Light Hearted." He can be emailed at Jeremy@uslhs.org