The mission of the Noble Maritime Collection, an art and history museum on Staten Island, New York, is to present exhibitions and programs that celebrate the working waterfront of New York Harbor in the tradition of the distinguished artist John A. Noble. The museum is located on the former grounds of the retirement home known as Sailors' Snug Harbor, on Staten Island's North Shore.
The museum also works to preserve Robbins Reef Lighthouse, a spark-plug-style tower located between the Statue of Liberty and Staten Island's North Shore. Robbins Reef is best known as the home of the famous Kate Walker, who was its keeper from 1895 to 1919.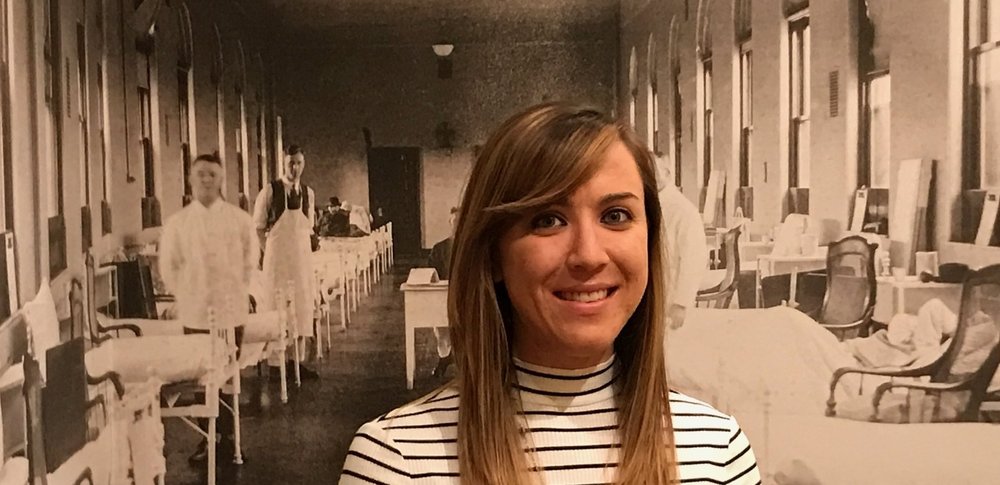 Curator Megan Beck began working at the Noble Maritime Collection in 2013. She researched and helped develop exhibits on Sailors Snug Harbor and Robbins Reef Lighthouse, and she oversees all curatorial and archival projects for the museum.
Below: Kate Walker, the celebrated keeper of Robbins Reef Lighthouse. (U.S. Lighthouse Society archives)
Today's "Be a Lighthouse" subject is from Oak Ridge, Tennessee. Scarves tied around poles were recently spotted in that city, along with notes that said, "If you need this scarf, please take it and be warm and safe." The person behind this act of kindness is Aunika Sharrock, an 18-year-old Oak Ridge high school senior who enjoys helping others. And this isn't the first time Aunika has performed selfless acts of caring. Co-host Michelle Jewell Shaw interviewed Aunika for the podcast.
Podcast: Play in new window | Download (Duration: 53:57 — 41.2MB) | Embed
Jeremy D'Entremont is the author of more than 20 books and hundreds of articles on lighthouses and maritime history. He is the president and historian for the American Lighthouse Foundation and founder of Friends of Portsmouth Harbor Lighthouses, and he has lectured and narrated cruises throughout the Northeast and in other regions. He is also the producer and host of the U.S. Lighthouse Society podcast, "Light Hearted." He can be emailed at Jeremy@uslhs.org